We Love Simple Strands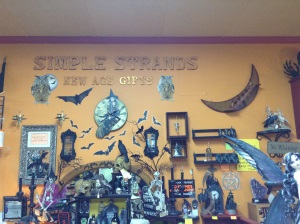 Our gargoyle mascot, Josh, guards the store.
Every Saturday at 3:00 pm, we invite people to meet at Simple Strands for Socialize on Saturdays. It is a party like atmosphere where people interested in the metaphysical can meet. Already, two communities have formed through meeting at Socialize on Saturdays.
People often call to ask if I carry Coventry Candles and I am happy to say that I do. I can always find the correct
candle that is needed based on conversations with customers and they are very happy for that.The scents contribute to the wonderfully calming atmosphere of Simple Strands.
Simple Strands New Age Gifts
115 Merchants Square
Cumming, GA 30040
Open Tues thru Sat 11 am until 7 pm
Holiday hours vary
This email address is being protected from spambots. You need JavaScript enabled to view it.

We are on Facebook as Simple Strands