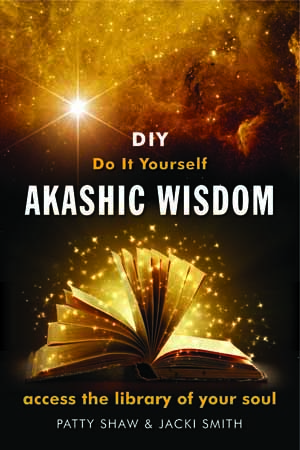 Are you ready to change your world?
Or even just a part of it? In Jacki & Patty's new book DIY Akashic Wisdom they show you how to make those changes by stepping into your Akashic Records and fixing your challenges at their root. Today is the day you can get started on an amazing personal journey into your own Akashic Records. Jacki Smith and Patty Shaw are your willing guides as your navigate the records of your soul.
Get your copy of DIY Akashic Wisdom today on Coventry Creations or join your local retailer on Nov 9th for our Indie Store Book Launch where you receive an Akashic Records Starter Kit of a meditation CD and candle with purchase. See below for our growing list of participating stores.
"We are so excited to be welcoming our new book, DIY Akashic Wisdom, into the world. We are double excited to put this knowledge into your capable hands. The Akashic Records have brought to much healing, insight, evolution, growth and joy into your lives are we are honored to share it with all who are looking to deepen their spiritual experience.When you travel with us, you need only a drop of courage and a curiosity to look past the expected and into the infinite possibilities that the Akasha offers us."
-Jacki Smith & Patty Shaw
Participating Stores for our Nov 9th Indie Store Book Launch!
Indie Book Launch Participants:
Candle Wick Shop
195 W 9 Mile Rd Suite B1
Ferndale, MI 48220
248-547-2987
http://www.candlewickshoppe.com/
Enchanted Hollow
6 East Avenue
Wellsboro, PA 16901
570-724-1155
http://www.enchanted-hollow.com/
Zuzu's Healing Arts
122 West Emerson St.
Melrose, MA 02176
781-665-8844
Pathway's Spirit
802 W. 2nd Street
Reno, NV 89503
775-826-3777
https://www.facebook.com/pages/The-Pathways-Spirit/100468893553
Next Millenium
3141 North 93rd St
Omaha, NE 68134
402-393-1121
Mystic Elements
6913 Finian Drive
Wilminton, NC 28409
910-799-1001
http://www.mysticelements.com/
Journeys of Life
810 Bellefonte Street
Pittsburgh, PA 15232
412-681-8755
http://www.journeysoflifeonline.com/
Ancient Mysteries
209 E. Ben White Blvd, Suite 202
Austin, TX 78704
512-373-4411
http://www.ancient-mysteries.net/
Jan Ross New Age Center
4239 Thunderbird Rd #2
Phoenix, AZ 85053
602-841-4933
http://www.janrossnewagebooksandgifts.com/
Crescent Moon Gifts
2712 6th Ave
Tacoma, WA 98406
253 572-8339
http://www.crescentmoongifts.com/
https://www.facebook.com/CrescentMoonGifts
WillowJane's
Jane E Smith
2738 Parkwood Drive
Quincy, Illinois 62305
217-430-5239
http://www.willowjane.com/index.html
https://www.facebook.com/pages/Willow-Janes/1689240924548156?fref=ts
Nature's Treasures of Texas
4103 North IH-35
Austin, TX 78722
512-472-5015
https://www.facebook.com/NTRocks
Seventh Stone, The
46 Mansion St.
Coxsackie, New York 12051
518-731-8816
http://www.seventhstonestudios.com/
Well of the Moon
2650 S. Decatur Blvd, Ste A02
Las Vegas, Nevada 89102
702-401-0197
La Bouna Vita
Wild Women's Studio
150 Farrarville Road
Belmont, NH 03220
603-273-0213