"Yin and yang" is how the Coventry staff describes Jacki & Patty's working relationship. These two powerful women are as different as two sisters can be; where Jacki is extroverted, Patty is introverted. Where Patty is cautious to change, Jacki will run in headfirst and see what happens; where Jacki is filled with bursts of inspiration, Patty reads the deeper, more secret level of the people around her. Together, with their wit and witticisms, they are an amazing team that that is fun, funny and easy to laugh.
The deep love and respect they have for each other is their secret sauce of success. Every day they help each other heal and evolve in the journey that is Coventry. Leaning on each other's strengths and shoring up each other's weaknesses in celebration of their differences, these "Wonder Twins" (with a nine-year difference in ages) come together from differing spiritual paths and passions. What they discovered as they worked together in creating the healing magic of the Coventry products, is that no matter what the wrapping, we are all looking for a deeper connection to our higher power.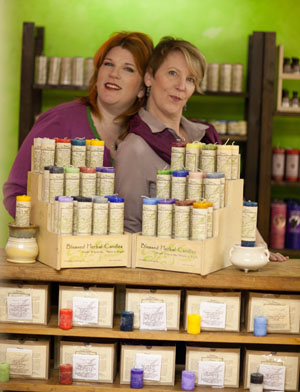 Jacki is an initiated eclectic witch and a student of all esoteric paths. Her bestselling book, Coventry Magic with Candles, Oils and Herbs published in 2011, tells the tale of her eclectic and empowered magical style. Patty is a Reiki Master and Transformational Healer who, in 2008, self-published the Healers Almanac, the 21st Century Goddess Edition. This book is an amalgamation of many healing modalities, meditations and personal discovery techniques—a perfect representation of Patty's journey to becoming a healer. Together Patty and Jacki are self-taught in Akashic healing and have a book coming out in October of 2013, DIY Akashic Wisdom, Accessing the Library of Your Soul.
You would think that 45 hours a week of making magic at Coventry would be enough, but Jacki and Patty average an additional 10 hours a week in spiritual pursuits, teaching, consulting, volunteering and learning. This is not just a job for these sisters; it is who they are: their passion and their gift to the world.
Patty and Jacki both live in Southeast Michigan. Patty has raised two amazing children, one of whom is now a part of Coventry. Patty and her husband David love to garden, vacation with family, and experience art in all its forms. Jacki, her husband Phoenix and their daughter are sci-fi geeks to the max and love to laugh at their own quirks. Jacki and Phoenix volunteer for their local Pride organizations, business development groups and all the required parent things that marching band kids need.
These sisters don't stop and that is what keeps Coventry fresh, connected with the daily grind of life and empathetic to their customer's needs. You may find similar products from other vendors, but none have the experience, commitment and passion for what they do like Jacki and Patty at Coventry Creations.