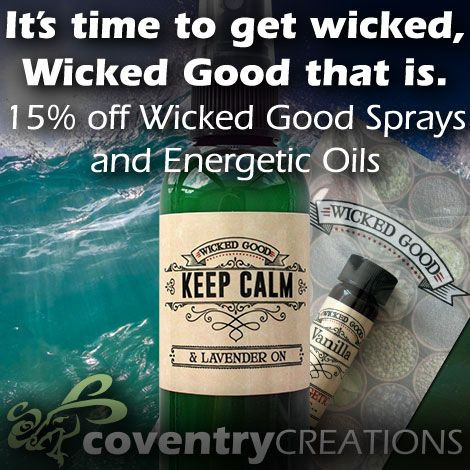 Wicked isn't always bad. Sometimes it's good, really good. Let's be good together with this special on both our room sprays and single scent packaged oils. Both are a must have for your magical practice, for uplifting your life or for taking care of your body temple.
Wicked Good Sprays reduced price - $10.50 each
Perfect for the room, your body and your car
Wicked Good Energetic Oils reduced price - $6.50 each
Perfect for your body, dressing your candles, your diffuser
Did you know that spritzing the Road Opener spray on your resume can help you get that job you want? There are many uses for our sprays and oils that may surprise you. Please read all our blogs on our products and get inspired! This month we are coupling the Witches Union Healing patch with our aromatherapy lines to show that healing can be enhanced in many ways and that we all can do our part in healing ourselves and the world. Try being a healer and reward yourself with a Healing patch. Better yet, gift your favorite healer with it. It will show them just how much you believe in them and appreciate their dedication to their work.
Visit our website to browse all our wonderful products and make sure to check out our Witches Union swag. This line of fun products celebrates the powerful witch in you. January is the month of community and working together for the greater good. Needing to find your tribe? It's time to do some hive magic.
Don't forget to sign up for our newsletter here, for more Coventry magic delivered right to your inbox.