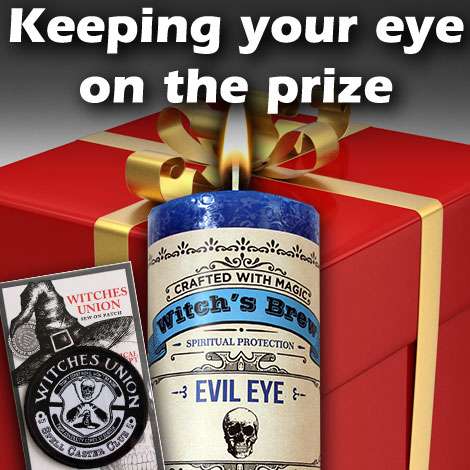 The hardest time to stick with it, is when the chips are down. Nobody likes to be told to step on the gas when they are pretty sure the tank is empty. When I believe I've given it my all and my plans fall apart, my falling apart is pretty predictable.
That's my emotional reaction and it has to be managed carefully so I don't get stuck. My first rational move is to surrender to my feelings and let them flow out. If I get caught in a loop of reaction I can inadvertently blaze a path in my psyche that creates an emotional habit and a destructive mindset.
Witch's Brew pillar candles, boxed votives and oils are 15% off in April
Dragon's Blood (power), Evil Eye (protection), Witch's Brew (spell work), Witch's Purse (prosperity)
Pillar regular price $24.50 sale price $20.75
Oil regular price $10.00 sale price $8.50
box of 24 votives regular price $75 sale price $63.75
Show you are living a magical life with our Witches Union Magical Adept Patch $8.75
Keeping my eye on the prize is how I get through the pitfalls that accompany all creative endeavors. I don't attempt any course corrections until my emotions have come back to neutral. Then it's safe to regroup and start solving problems. When I don't give myself a time out, I could, in a fit of anger, destroy all my hard work or walk away when it's not necessary. I talk about this in my book Healers Almanac in the chapter called Hope. As we have seen over and over again, it is critical that hope is part of our tool chest and will keep our emotions balanced. Hope shows us we don't have to give up, just take a pause and let the feelings spin out. Feelings are just feelings. They don't think or make decisions. Nor are they prophets or predictors. Emotions are meant to be the wind beneath our intellectual wings. Before your next crisis, create a plan for managing your emotions. This way, when a monsoon unexpectedly erupts you already know what to do until it blows out.
Like all of our blogs, here is a recommendation for a Coventry product to support your work. When it comes to managing your emotions during an upset, try lighting an Evil Eye Witch's Brew candle. It will help you release all the negativity generated by your internal monsoon. Emotions are an important part of life, but they aren't the boss of you.
All of Coventry Creations Witch's Brew pillar candles, boxed votives and oils are on sale the month of April. Order online at www.coventrycreations.com to take advantage of the 15% off special.
To purchase more life changing Coventry products, visit our website here and don't forget to sign up for our newsletter here for more Coventry magic delivered right to your inbox.