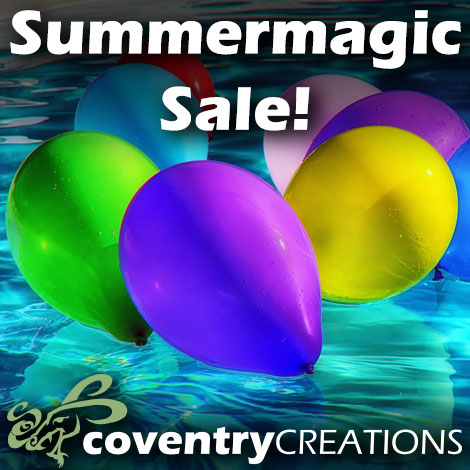 We love summer time in Michigan. Right after the first snowfall we are counting the days until spring. Even though there are lots of opportunity for winter fun, just about everyone has spring fever by February 1st. We think it's because the weather is so unpredictable here.
We are used to getting sleeting rain one day and hot and humid the next. It makes us an impatient lot who is addicted to change. One thing that is not changing though and has become a tradition is our summermagic sale featuring our Blessed Herbal Candles and oils. We started Coventry Creations with this line of candles. Jacki made them on her kitchen stove and then moved the entire operation to the basement after she dumped a pot of wax all over the floor. Her first design was the prosperity candle. She needed to manifest some money. We'd say she got it right. Learn from Jacki and work your magic and make your dreams come true.
Blessed Herbal Candles 15% off
Blessed Herbal Oils 15% off
Announcing Eight New Blessed Herbal Oils!
Ancestor, Happy Home, Needed Changes,
Problem Solving, Prosperity, Stability, Truth & Justice.
To sweeten the deal, we added eight more oils to our Blessed Herbal Oil line. They are also 15% off. You are welcome. There is much more magic to be made my friends! Anoint away your problems, bless your ancestors and create wealth with our expanded line of Blessed Herbal oils.
And now for the other real magic; the Witches Union has a brand new patch and you are going to LOVE it. Check out our Money Magic patch. If you don't see more money in your life after earning this patch, it's time to go back to your magical roots and see what's going on. Join the Witches Union, get this patch and follow the spell on the back. You will be a money magical adept in no time.
Please, call us today to get some Blessed Herbal magic working for you! Put a picture of yourself on our Facebook page wearing your Money Magic Witches Union patch. We will celebrate with you. @coventrycreationscandles.
Order online at www.coventrycreations.com .
To purchase more life changing Coventry products, visit our website and don't forget to
Sign up for our newsletter for more Coventry magic delivered right to your inbox.