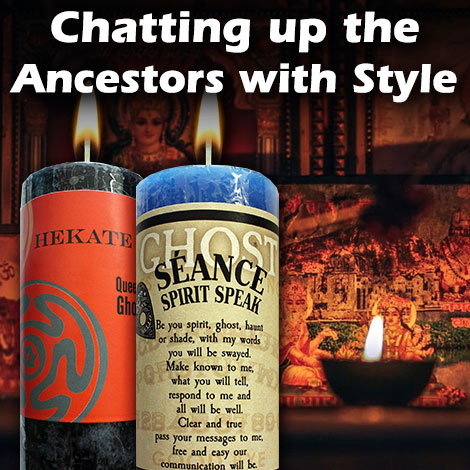 Every October we get the opportunity to do something very special for our ancestors. Why not do it in style? Have you ever put up an ofrenda for your dearly departed? In Detroit, the DIA displays ofrendas created by local artists.
Some make political statements, well honestly, what family has not shouldered a burdened at the hands of politics or the government? While others are straight up, I love you grandpa and grandma. I especially love the ones that show us their ancestor's talents and how they expressed them in their life.
Ofrendas are easy to make and an excellent family project. Start with the basic elements and build from there. You can't do it wrong, so don't bother arguing about it. There, first family squabble squelched. Gather together copies of pictures of ancestors. No pictures that include any living folk. That is just bad luck. Cut them out, decorate them, or frame them in any way that pleases you or reflects their personality. You can use a flat table or make tiers. Place all the pictures with all the things you know or think your ancestors enjoyed in life on the table. Add favorite foods, flowers, decorations and games and your ofrenda is done.
On the evening of October 31st gather around the ofrenda with family and friends and tell happy and funny stories about them, salute them and tell them how much you love them and are proud of them. It's also a good time to ask for help in a personal matter, ask forgiveness and give forgiveness. Mythology tells us that once our ancestors cross the rainbow bridge, they are allowed to come back for a visit and check on the family. Why not make it a celebration! Check out the Disney movie Coco for the drama, the beauty and the reason for the ofrenda.
Perfect candles for your ofrenda are right here at Coventry Creations. Find them at your favorite boutique new age or pagan store or order them online at coventryCREATIONS.com
Retail Feature Products:
Witches Union Psychic patch $7.50 .
Increase or awaken your psychic gifts and enjoy a beautiful
relationship with ancestors, spirit guides and the divine.
Limited Edition World Magic Candles
2"dia. by 6 ½" tall and $24.50 each.
Halloween/Samhain candle, spicy temple scent and the color of a ripe jack-o-lantern.
Hekate, Queen of the Ghosts, sweet honeysuckle and midnight black.
Ghost candles are in season again
Same look as last year and $13.75 each
Ghost Repel – moving ghost along and out of your space
Home Clear and Bless – clearing the heavy energy from your home
Night Terrors – releasing nightmares for you and your children
Séance – spirit communication with ease
While supplies last, don't forget your Dorothy Morrison Wicked Witch Halloween candles.
The titles and spells are ever so charming but don't be fooled. They are just as powerful as their siblings, the Wicked Witch Mojo candles.
Limited Edition Wicked Witch Halloween candles
2"x 4 ½ pillars and cost $13.75 each.
As the Cauldron Bubbles is dark grey – make the gossipers go away
Haint Happening is light blue – Clear out the Haunts
Spiritual Discourse is brilliant gold – Talk to your ancestors
The Conjurer is deep purple – power up your spells

(Last month I had the colors mixed up – my apologies. I have a great excuse, but that is a story for another time.)
Invite us to celebrate the season with you and have yourself a Wicked Witch Halloween this year. For more information on our life changing Coventry products, visit our website and don't forget to sign up for our newsletter for more Coventry magic delivered right to your inbox.