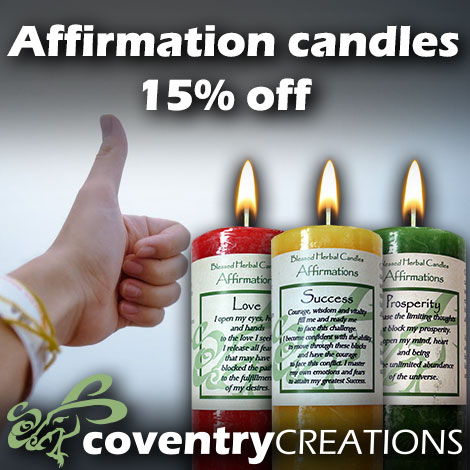 Get ready to say goodbye to 2018, and hello to 2019! Here at Coventry Creations, we believe that the end of the year should go out the way you want the new year to arrive!
Affirmation Pillar candles 15% off
15 styles of practical magical candles
Regular price $13.75
Sale price $11.75
Witches Union Love Magic Patch $7.50
For many of us magic makers at Coventry Creations, this year has been hell! For some, it was a great year of advancement and lessons learned that required us to peel back the next onion layer of healing. For all of us, we were given amazing opportunities to grow and stretch further than what we had before. While all of our Affirmation candles are amazing, we are looking at focusing on what we want to bring in the new year: Prosperity, Love and Success! All of which are in the Affirmation line.
Remember: how you end the year is how your new year will begin! Set your affirmations today with our Affirmation candles.
Please, call us today to get your Affirmation magic working for you! Put a picture of yourself on our Facebook page wearing your Love Magic Witches Union patch. Let's spread the love!!
All of Coventry Creations Affirmation candles are on sale the month of December. Order online at www.coventrycreations.com to take advantage of the 15% off special.
To purchase more life-changing Coventry products, visit our website and don't forget to sign up for our newsletter here for more Coventry magic delivered right to your inbox.