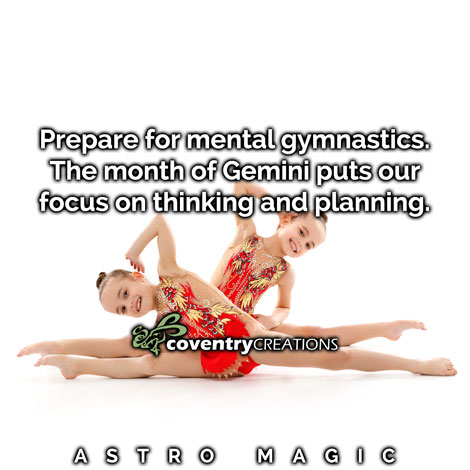 In June we transition out of earthy Taurus into airy Gemini. This is the season of the mind, communication, learning and being in the now. Gemini has been considered a flaky energy but this is simply not true. This sign of the intellect is capable of processing so many ideas that focusing on one thing just wouldn't do.
Instead of labeling Gemini, let's honor the gift she brings us. Her power of analysis opens doors of new thought and communication and her panache for strategizing is out of this world. All very important components for innovations and discoveries.
Throughout the month our thoughts will be influenced by our changing emotions because Mercury is in Cancer. Protect yourself from the low swings with general protection spells, protection candles and amulets. For every low there is a high. Enjoy the parties and intellectually stimulating conversations as your calendar could fill up quickly with invitations. This is a great time to spend with close friends and deepening friendships that already exist.
Magically speaking this month is about making your mind a magnet for inspiration. Storm Cestavani suggests using the Truth and Justice Blessed Herbal candle to clear your mind and participate in one of the most powerful magical tools we have – journaling. After all, messages from the universe do not always come through signs and synchronistic wonders, they come from thoughts that drift through our mind.
As we progress through the month here is what we can expect from the heavenly bodies and how they will influence us. We start the month feeling frustrated by poor execution of our ideas. This is because the Sun squares Neptune. We will get relief from this by mid-month and the wheels start turning again. To help with meeting deadlines burn an Energy Blessed Herbal candle. Also, whenever there is low energy, there is also self-worth and self-esteem issues that crop up. Combat that with one of these powerfully uplifting candles or oils, Uncrossing Hoo Doo, Needed Change Blessed Herbal candle, Poof and Tornado Alley Wicked Witch Mojo.
Mid-month brings one of those mood swings were we are super sensitive about the world around us, especially our personal world. Feeling restricted and even paranoid can overlay what's really going on thanks to Saturn and Pluto. This veil of confusion can be lightened by applying High John or Crown of Glory oil on your pulse points and burning a Blessed Herbal Healing and Heart candles. The weather will be mimicking our fears and acting out with thunderstorms and possible tornadoes, oh my! Mars also forms a very frustrating opposition to Saturn and you'll feel like you are driving with the brakes on. No matter what you do, progress could elude you. Guess who will take the brunt of this? Your friends, family and co-workers. To offset all this emotional energy, use our Chakra Magic sprays and candles to keep your chakras balanced and your energy grounded.
Sliding into the last part of the month, you'll be pleasantly surprised by positive changes and it will really feel like some good old fashioned good luck has come your way. You can magically tap into and direct this energy in any area of life it's needed with candles like Wishin' Mojo, Fast Cash, and Black Cat. Use your intentions wisely.
There is one Venusian blip that will occur towards the end of the month when Venus forms a troubling square to Neptune. This can pull you into a starry eyed view of people and put them on the pedestal of "you are my everything". This is unrealistic and dangerous to any relationship because nobody can be the 'end all and be all' for everyone. If you find this really starting to irritate your relationships you can counteract it by either burning a Stability Blessed Herbal candle or wearing Stability oil. Remember, you are always in control of the way you react to your situations.
Special thanks to our Astrology expert, Storm Cestavani, Astrological Life Coach, for his astute guidance on how the planets affect our daily lives. Meet Storm at www.stormcestavani.com.
For Storm, Astrology is a lifelong study and passion. His combination of Astrology, psychology, mythology and Kabbalistic studies create an experience he calls Transformational Astrology. A session with Storm is about unlocking your potential through self-awareness, healing and perfect timing. We give Storm 12 stars.
Don't forget to sign up for our newsletter here for more Coventry magic delivered right to your inbox. Visit our website coventryCREATIONS.com for all your magical needs.