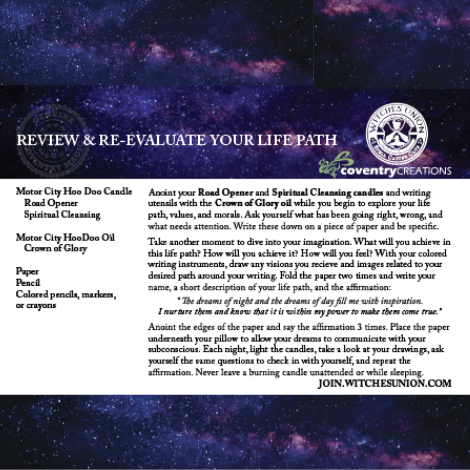 You will do this many times in your life, so don't get bogged down with worries about getting it wrong. Reviewing and re-evaluating where you are on your life path and your own values and morals is such a great way to return to the authentic you.
If you have made mistakes or your best efforts have not produced the desired results, instead of beating yourself up, take this as an opportunity to learn what you didn't understand before.
This spell will guide you through the steps and lead you right to what you want to know. Who you are and are you on the right path? Hannah wrote this spell from her heart because she knows it is not always clear what to do when life takes an unexpected turn.
Review and Re-evaluate your life path spell
Coventry Products you'll need: Road Opener Hoo Doo candle, Spiritual Cleansing Hoo Doo candle, Crown of Glory Hoo Doo oil
Other items you will need: Paper, Pencil, Color pencils, markers or crayons
The spell: Anoint you Road Opener and Spiritual Cleansing candles and writing utensils with the Crown of Glory oil. Ask yourself what has been going right, wrong and what needs attention. Write these down on a piece of paper and be specific.
Take another moment to dive into your imagination. What will you achieve in the life path? How will you achieve it? How will you feel? With your colored writing instruments, draw any visions you receive and images related to your desired path around your writing. Fold the paper two times and write your name, a short description of your life path, and the affirmation:
"The dreams of night and the dreams of day fill me with inspiration.
I nurture them and know that it is within my power to make them come true."
Anoint the edges of the paper and say the affirmation 3 times. Place the paper underneath your pillow to allow your dreams to communicate with your subconscious. Each night, light the candles, take a look at your drawings, ask yourself the same questions to check in with yourself, and repeat the affirmation. Remove all packaging before lighting your candles and never leave a burning candle unattended or while sleeping.
Dazzle your friends by being a Coventry Creations magic maker and join the Witch's Union. Gain easy access to spells and a wonderful community of like-minded witches.
Follow our blogs on coventrycreations.com. Find us on Facebook @coventrycreationscandles.
Join our Witch's Union Facebook Group https://www.facebook.com/groups/WitchesUnionSCC and be part of something special, our witchy community, because you are special. You can do magic! Follow us on Instagram @coventrycandles and Pinterest, Coventry Creations.

Don't forget to sign up for our newsletter here for more Coventry magic delivered right to your inbox