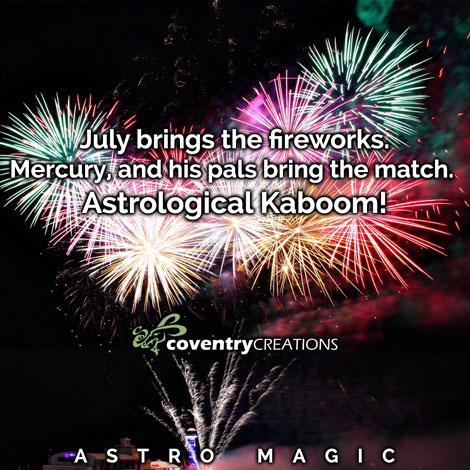 We're going to rip the bandaid off fast. July is by far the most difficult month of the year. With the help of Coventry products and faith in yourself, you will get through it. We've got two powerful potent eclipses and Mercury goes retrograde.
Eclipses put the brakes on and Mercury retrograde means irritating malfunctions and miscommunications.
During the season of the crab we are all about creating emotional security and building a stable foundation. Which is why in the US Cancer is associated with baseball, hotdogs, and Mom's apple pie. Not to mention being enthusiastically patriotic. Of course, each country has their own icons for a happy home and national pride and security.
This year our beloved Cancer season is going to be exceptionally intense because of other players in the zodiac. Never the fault of Cancer itself of course. The Sun will tangle with the zodiacal bad boys, Saturn and Pluto. This means the choices and decisions we made (or failed to make) six months ago will be tested. We may experience difficulties with people which may include confrontations, conflicts, and arguments. To keep your emotions calm anoint your wrists daily with Happy Home Blessed Herbal oil. To ease tensions at home keep an Adam & Eve Hoo Doo or Heart Blessed Herbal candles burning (remove all packaging and never leave a burning candle unattended). Don't forget, we highly recommend burning a Van Van Hoo Doo candle while Mercury is retrograde. The hot bed day is July 8th when arguments, disagreements, and reactive behavior are not only probable, the could get pretty intense. In other parts of the heavens, Venus influences us to do something out of our comfort zone and shake things up a bit. Our romantic relationships are ripe for more excitement.
The first eclipse of eclipse season happens on July 2nd in Cancer. This solar eclipse happens during the new moon. Ordinarily, New Moons are the time to do manifestation magic, but with Mercury about to turn retrograde, this is not the best course of action. Instead, we can use this New Moon to get in touch with our emotions and motivations. Self-analysis could reveal some truths we need to see. July is also about being fully present, valuing the way we spend our time, reducing stress, and being in the moment. Meditate on your chakras with our Chakra Magic candles during this beautifully reflective time and release pent up stress that wastes our energy and messes with our zen.
Next up, is Mercury retrograde which happens on July 7th. This retrograde begins in the sign of Leo, but the traditional warnings are still applicable. Do not begin anything new, avoid signing documents or making firm agreements. Resist making big purchases. It could bring on buyer's remorse next month. Communication problems are likely, travel plans may be interrupted, and technology tends to break down. We always recommend burning Van Van Candles during a Mercury retrograde. Financial frustrations in the second half of the month may trigger anxiety and loss of faith. We suggest Road Opener, Needed change, or Out of My Way candles to keep the money flowing and in the right direction.
July 16th we have a lunar eclipse in the sign of Capricorn. The sign of the goat governs our station in life and manages our reputation, place in society, and the labels that define who we are. Since this eclipse is also a powerful Full Moon, we can use it to re-invent ourselves and let go of behaviors that no longer define us. Also, this is a great time to repair our reputations. A possible path to revelation is to get honest about the motivations behind our past bad choices and decisions, forgive ourselves and let it all go. Also on the 16th is when trouble begins in the confidence department. Insecurities and self- doubt may begin to plague us and bleed into our relationships. This internal struggle will continue straight through the rest of the month. Strengthen the solar plexus with Coventry's Confidence Chakra Magic spray. Adam & Eve and Happy Home candles will protect our relationships until we feel better.
This month something occurs that is very rare. We have two New Moons in one month. This New Moon on July 31st is in fiery Leo. It's a great Moon to do self-improvement magic, beauty magic, and attraction magic. Our Self-Love and Forgiveness Witches Union Spell will be greatly enhanced by the power of this moon. Bonus, Mercury goes direct on July 31st too.
Although Mercury retrograde and solar eclipses interfere with beginning anything new, life still goes on. Mars moves through fiery Leo and brings a silver lining. Our creative projects become more important and achieving goals boost individual satisfaction. Stay positive and proactive!
Special thanks to our Astrology expert, Storm Cestavani, Astrological Life Coach, for his astute guidance on how the planets affect our daily lives. Meet Storm at www.stormcestavani.com.
For Storm, Astrology is a lifelong study and passion. His combination of Astrology, psychology, mythology and Kabbalistic studies create an experience he calls Transformational Astrology. A session with Storm is about unlocking your potential through self-awareness, healing and perfect timing. We give Storm 12 stars.
Don't forget to sign up for our newsletter here for more Coventry magic delivered right to your inbox. Visit our website coventryCREATIONS.com for all your magical needs.