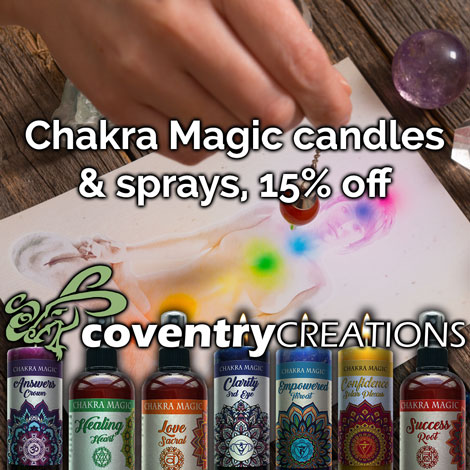 Life is not a destination but a journey. Don't press pause in the game of life by inadvertently shutting down your drive and desire because there's junk in your chakras. Reclaim the game by shifting the quality of the energy in your chakras with a Chakra Magic candle or spray.
Watch how life becomes interesting again and you've become a force to be reckoned with. Open and clear your little chakra engines and feel amazing once again with the power of positive thinking, color and scent. Regular meditation can keep your chakras humming the sweet song of success, enthusiasm for life and support your physical body like a boss. Follow our meditation suggestions and use the mantra on the label for optimal chakra magic.
Life is better with happy chakras. Apply Coventry Chakra Magic liberally.
You can find our Chakra Magic candles and sprays with all their magical and practical uses on our website www.coventrycreations.com. To show our gratitude for your patronage, please enjoy our 15% off sale this month.
Retail Special
15% off Chakra Magic Candles and Chakra Magic Sprays
Answers - Crown Chakra, Clarity - Third eye Chakra, Empowered - Throat Chakra, Healing - Heart Chakra, Confidence - Solar plexus chakra, Love - Sacral Chakra, Success - Root chakra
Candles $13.75 ($11.75 reg price)
Sprays $13.75 ($16.25 reg price)
Two easy ways to get Chakra Magic products in your hands.
Order online at coventrycreations.com and order 24 hours a day, 7 days a week.
Call us at the Candle Wick Shoppe 1-248-547-2987. We will answer your questions, take your order and make you smile.
Dazzle your friends by being a Coventry Creations magic maker!
Follow our blogs on coventrycreations.com. Find us on Facebook @coventrycreationscandles. Join our Witch's Union Facebook Group https://www.facebook.com/groups/WitchesUnionSCC and be a part of something special, our witchy community, because you are special. You can do magic! Follow us on Instagram @coventrycandles and Pinterest, Coventry Creations.
Don't forget to sign up for our newsletter here for more Coventry magic delivered right to your inbox