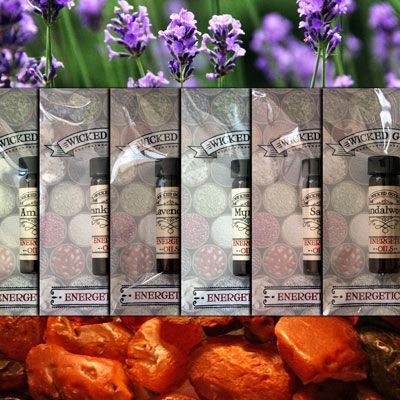 Anxiety.  Stress.  Depression.  For the oh so special few all three can circle around like vultures, swooping and diving with precision and accuracy.  These vicious harpies can rip at the spirit and tear apart a happy life.  Grasped in their tight claws, it can feel like there is no escape.  There are many necessary tools to tame the big bad uglies but one of the easiest to implement is scent therapy.  
Easy, but not simple.  Aromatherapy has long been regarded as an effective helping hand on the road to a more well balanced life but where to start?  With so many delicious scents how do you decide what will help you on your path?  There are hundreds of well written books but few of us have time to read them all so I thought I would share a few of my favorites.
Lavender
"Lavender will induce restful, healing sleep to those that are troubled.  It also helps cleanse the spirit of the evil eye and calms stormy, uncontrolled emotions that can cause disease."
Jacki Smith, Coventry Magic.
Juniper
"Juniper has some unique magical vibrations...It can spiritually detox you of dark energies and attract positive forces."
Jacki Smith, Coventry Magic
Cedar
"It brings the self into balance, aligning body, mind, and spirit...relieves anxiety and calms irritation, anger, and fears."
Jacki Smith, Coventry Magic
Use single scents or create your own custom blends of all three.  Anoint yourself, your home, your pillow… Whatever appeals to your intuition.  Tackling these big troubles often calls for a multilevel approach and tapping into the energy of oils will get things on the right track.