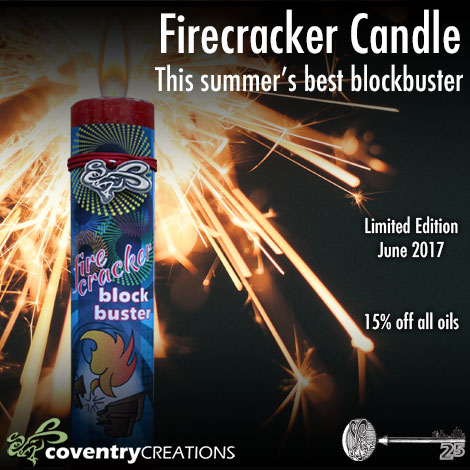 What superpowers are created when you combine dragons and firecrackers?
The ultimate blockbuster
Firecracker
limited edition candle and dragon charm
$25.00 retail
We could all use a summer blockbuster to get out of the funky stress that has been taking over all of our lives and Coventry has the magic you need.
When you are getting stuck in the old rut again it's time to bust that block and light a dragon powered firecracker under your own butt to get moving in a new direction. The Limited edition Firecracker candle is a block busting ritual to let go of the old and embrace the new path opened to you. The candle moves the energy and the custom Coventry dragon charm helps you carry that energy with you.
Firecrackers symbolize saying goodbye to the old and hello to the new. We use firecrackers in America to celebrate our break from the King's rule into our own independence! What are you breaking away from?
Dragons symbolize great power and luck, more than you even imagined. When you join dragon energy with any spell the power is increased substantially.
Red is a lucky color, it brings blessings and drives off evil. Tying something with a red ribbon, string or cord ignites your magic.
This special edition allows you to carry this magic with you. Hold the Coventry dragon charm as you say the blessing and light the candle. Tie the dragon charm to anything that needs energy, protection, luck or blessings (including you). These blessed charms are lead, nickel and cadmium free.
If this candle seems familiar, you are right! It was 10 years ago that "Firecracker" candle was born and it was the first of our limited edition products. After all this time, customers still ask for it so in true Coventry style, we upped the game with a custom made and charged dragon charm on the candle to made it even more effective for today's needs.
Visit our website to grab a Firecracker candle before they are gone and make sure to check out our new Witches Union swag. This line of fun products celebrates the powerful witch in you and your part in our community.
Don't forget to sign up for our newsletter, for more Coventry magic delivered right to your inbox!