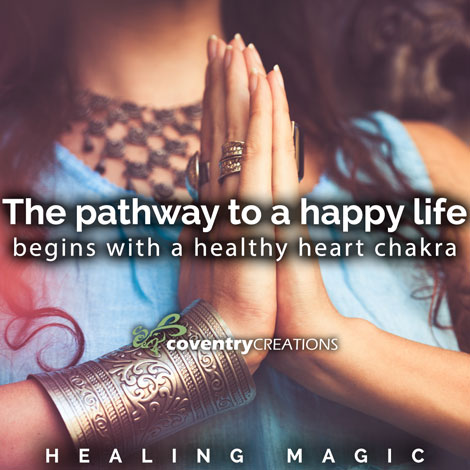 Let's get to know the wonderful Heart Chakra. It is in the center of your chest and a beautiful emerald green. The chakra is a busy little bee because its chief purpose is to process your life events.
This is so your soul can take experiences and turn them into lessons learned. It is an important part of your spiritual evolution. This chakra is also in charge of the health of your circulatory system, heart, lungs and thymus. The personality archetypes are the Lover and Actor. The Lover archetype expresses through honest communication and its actions are filled with integrity. When you are expressing the actor archetype you scoot around being who you need to be to get what you want. The physical posture that improves the energy flow of your heart chakra is lying quietly with shoulders back. The crystals that improve heart chakra energy are Rose Quartz and Aventurine. The hearts favorite aromatherapy scents are Lemongrass, Jasmine, Rose, and our
Healing Chakra Magic spray.
Strengthen your heart chakra with a mantra
It's true, life does suck sometimes and you will feel the weight of it in your heart chakra because this is where the brunt of those difficult realities roosts. During these times your heart chakra needs help lifting these burdens so it can become filled with the joy of living again. To protect the heart and help it move through the tough terrain of relationship challenges, creative failures, and battles with prosperity, meditate with our Healing Chakra Magic candle. When you light the candle, sit with it and visualize beautiful clear green light filling your heart chakra. Ask that it be balanced and harmony be brought back into your life. Speak the mantra from the label and feel your heart grow stronger as it releases the effects of the struggles you are managing.
My heart is my own and only I have the power to break it or let it be broken.
Instead, I protect my heart and soul.
No longer do I believe the pain I feel as being my enduring truth.
Life is full of experiences both uplifting and hurtful.
With every breath I take, I leave the pain behind
and lift up my eyes and let my heart be light.
Now affirm that you have all you need for a life well lived. Develop faith in yourself by being more flexible about life and embrace the mindset that you can handle whatever life has to dish out. Every time you connect with the earth in a meditation, be grateful for all the abundance the earth has provided and ask for a blessing. She will gladly send you the energy you need to fulfill the goals you have yet to reach.
Spritz a little Healing Charka Magic spray in your aura to clear out residual emotions and thoughts. Do not spray toward your face and keep the sprayer at least 6" away from your body. Spray across the body in front or back. Never leave a candle burning unattended and remove all packaging before lighting it.

Does using magic, meditation and spell work sound like a great way to improve your life? It does to me too. Our magical products are available at CoventryCreations.com or at your local spiritual supply store. To get more unique spells, great articles, monthly specials, and new product announcements, subscribe to the Coventry newsletter here.