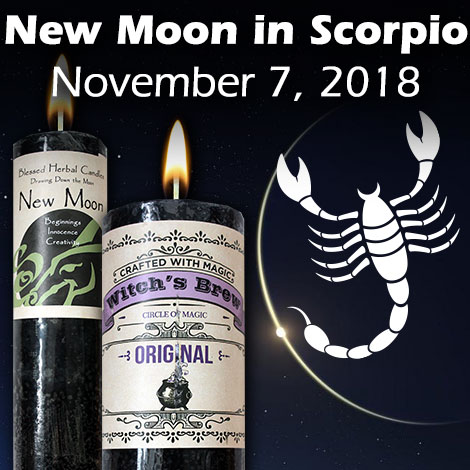 The moon is new in the sign of Scorpio on November 7, 2018. This is also snake energy according to Sun Bear in his book on earth astrology called The Medicine Wheel. Snake medicine in this new moon is inviting us to open our minds to a higher level of awareness.
This transmuting energy is all about reinventing ourselves into a better version by processing the emotional and mental poisons of lower thinking and turning them into wisdom and understanding. This powerful energy will catapult you into a new way of thinking, seeing and being in the world.
Oooo Snake Energy
If you choose to take on snake energy this new moon, support yourself with the New Moon Drawing Down the Moon Candle and the Original Witches Brew candle. The New Moon candle will soften your ridged perspectives and lines of thinking so you can open up to new thoughts and ideas. The Original Witches Brew candle will strengthen your will and help you see things through to the resolution. In this meditation you are challenging yourself to look into your destructive thought forms, break them down and release them.
Use the imagery of the snake to guide you. Ask the snake to reveal to you where your thoughts and beliefs limit you. They could be from your ancestral roots or beliefs you created from personal failures or traumas. Once you find them, listen to each story, one at a time and be open to learning what you decided about yourself because of that event or ancestral pattern.
This is deep work so do only one story at a time. When you get to your ah ha moment, the snake will eat the lie and you will be free of it. Just as the snake sheds its skin to grow, you will shed a layer of misconceptions from your mind so it can open to new and inspired thought. Wisdom is gained by understanding our experiences. You are here to learn, not reopen old wounds just for the sake of being in pain again. Stay focused and strong.
It's ok to take this to a spiritual counselor, therapist or the Altar of God when you need help. There are many insights and guidance in DIY Akashic Wisdom and The Medicine Wheel to help you through your transformations. May you find your true self in this meditation. I love and support you.
Drop us a note on our Facebook page with your success stories!