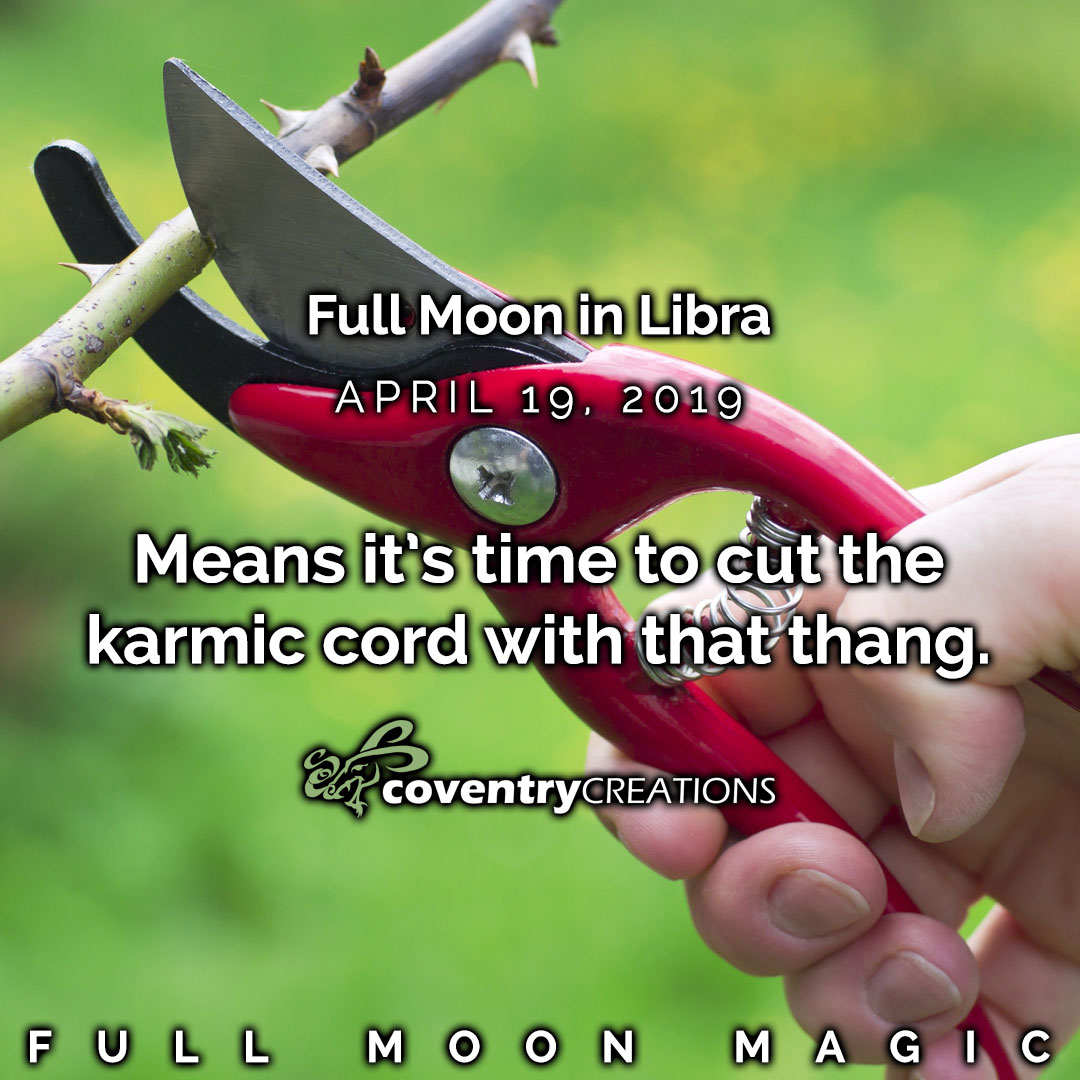 The Full Moon in Libra occurs on April 19th, and brings us some special energy and a unique opportunity. Here is what Storm has to say about this Full Moon in Libra.
The Full Moon cycles reflect the period of the month where the Moon begins to decrease in light.
We can use this energy to remove anything in our lives that is not working properly based on the sign that Moon is in. In the case of Libra, it is relationships. So, any relationship that has outlived its usefulness, whether it is a personal or business, now would be the time to end it or bring it to a good or suitable conclusion. This is a great time to cut karmic cords that may bind you to dysfunctional situations or people.
Candle Ritual for a graceful exit
This will work for any situation that involves people and you can adjust for the kind of situation with our handy list below. You will be setting up and altar or working on the one you already have. Make sure you have a glass of water, shot glass of alcohol, and fresh flowers while you are doing this spell.
For instruction on how to set up an altar see Coventry Magic by Jacki Smith or visit this website, https://happyblackwoman.com/how-to-create-a-personal-altar-in-your-home/
Now pick your products and day to do your ritual from this list based on Coventry Magic by Jacki Smith. Put the candle in its candle holder in the suggested location on your altar.
East for communication, legal magic; Energetic oil - Myrrh, candle – Scales of Justice Hoo Doo, Justice Tarot card, best day to start this spell is Thursday.
West for emotional work, love, clearing objects; Energetic oil – Lavender, Candle – Emotional Balance Blessed Herbal Candle, Love Affirmation candle, Lovers Tarot card, and best day to start this spell is Friday.
South for fame, luck success; Energetic oil – Date, Candle – Luck Affirmation candle, Success Affirmation candle, Wheel of Fortune Tarot card, best day to start this spell is Thursday.
North for money stability and self-esteem; Energetic oil – Neroli, Candle – Stability Blessed Herbal candle, Star Tarot card, best day to start this spell is Wednesday.
Remove all the packaging from the candle and anoint it with the Energetic oil. Place it in a candle holder and put the Tarot card under it. Light the candle and say a prayer, a blessing or a request for help with your situation and with all the people involved.
If the day to start the spell falls before the three days of the full moon, that's ok. Keep the candle burning from the 19th to the 21st for at least an hour a day and you will reap the benefits of this Libra moon.
Special thanks to our Astrology expert, Storm Cestavani, Astrological Life Coach, for his astute guidance on how the planets affect our daily lives. Meet Storm at www.stormcestavani.com.
Dazzle your friends by being a Coventry Creations magic maker!
Follow our blogs on coventrycreations.com. Find us on Facebook @coventrycreationscandles. Join our Witch's Union Facebook Group https://www.facebook.com/groups/WitchesUnionSCC and be part of something special, our witchy community, because you are special. You can do magic! Follow us on Instagram @coventrycandles and Pinterest, Coventry Creations.
Don't forget to sign up for our newsletter for more Coventry magic delivered right to your inbox