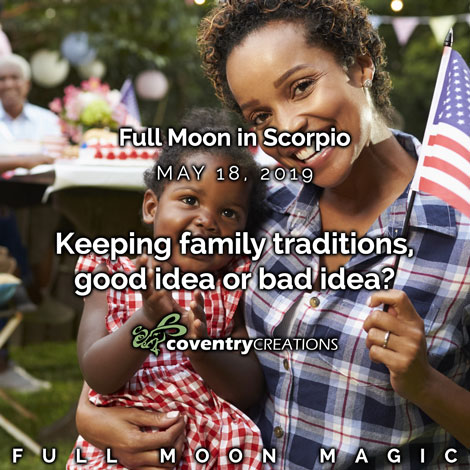 The Full Moon in Scorpio occurs on May 18th. Oh boy, buckle up because Scorpio is involved. This full moon is typecast for drama and tragic truth-telling. Alas, it is the way of the Scorpio full moon. You will find that secrets will be revealed.
The ones that are about the toxic dysfunctional behaviors that lurk beneath the surface that control our lives. Ick, haven't we just spent a ton of time and energy avoiding this exact moment?
It's out of Scorpio's quest to clear our minds, emotions, and DNA of all the darkness that keeps us in delusion and in its resulting chaos. Now that is some tough love. This is a great time to let go of anything that is no longer serving our better good. So, we will focus our magical suggestions on removing addictions and dysfunctional behaviors, even ones that we have inherited.
Keeping family traditions, good idea or bad idea?
That is the first decision. If you think honoring your ancestors by repeating their mistakes is what they want for you, you may be mistaken. If you took a survey, you will find a majority of them want you to learn from their mistakes and heal yourself so you can be free. Not just for yourself but for the family. You are their only hope Obi Wan Kenobi. Sometimes it's hard to strike out on your own, and think your own thoughts and follow through on your own life path. You have to be brave and independent. Well this Scorpio moon will help you through it and with a bit of a sting to keep you motivated. Pain is a thorough teacher.
Here's your candle ritual just for this occasion. Get an Uncrossing Hoo Doo candle, remove all the packaging and put it in a candle holder. On a piece of paper, write out the biggest trouble maker addiction in your life. Ask if anyone else in the family struggled with this problem. If no one knows, you can meditate on it and ask the ancestors yourself. Try doing this with the Wakin the Dead Wicked Witch Mojo candle. It will help you focus and make connections.
Now for the healing part. Light your Uncrossing candle, with the note under its candle holder, then guide yourself through a meditation from our book DIY Akashic Wisdom. There we talk about family legacies and how they can influence our behaviors and make it extra hard to quit the habit. There is a powerful meditation on page 135 called the Family Tree. Grab yourself a book or get one out of the library and record this meditation for yourself. Then listen to it and guide yourself through this release and healing. When you are done, you will feel free to move about your life without the burdens of negative family traditions. You can repeat this meditation for every addiction or habit that is rooted in a family tradition. It will be the cheapest yet effective therapy you've ever experienced.
Dazzle your friends by being a Coventry Creations magic maker!
Follow our blogs on coventrycreations.com. Find us on Facebook @coventrycreationscandles. Join our Witch's Union Facebook Group https://www.facebook.com/groups/WitchesUnionSCC and be part of something special, our witchy community, because you are special. You can do magic! Follow us on Instagram @coventrycandles and Pinterest, Coventry Creations.
Don't forget to sign up for our newsletter for more Coventry magic delivered right to your inbox