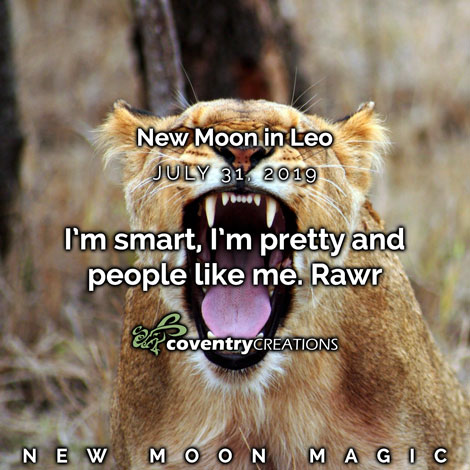 We can talk about new beginnings and manifesting magic again. Mercury is going direct and the New Moon is in fiery Leo. Even better, you can and should make it all about you. Now is the time to fluff and primp, to show us your best side and bring out the charismatic animal in you.
Why do you want to and need to do this? For a few really good reasons,
1. To practice self-love and appreciation.
2. To attract positive energy to you.
3. To create the foundations for your own magical PR campaign and your most important project is you.
I'm smart, I'm pretty and people like me, is only part of your magical PR campaign.
Spell crafting and energy work with your aura and chakras are the other part. To find good spells, look in books, search websites and ask a witch. Coventry Magic with Candles Oils and Herbs by Jacki Smith and books written by Dorothy Morrison will teach you how to craft a spell. Author, Judika Illes has volumes of spells to pour through. Websites we found interesting are www.wiccanspells.info and the www.crookedcrown.com. Here at Coventry Creations, we have a catalog of spell cards at www.coventrycreations.com/witches_union. To ask a witch, join our Witches Union: Spell Casters Club Facebook group www.facebook.com/groups/WitchesUnionSCC/ and get help from the witchy community there.
Healthy chakras and a strong aura are the foundation of your personal power and stability. Without their support it's nearly impossible to pull up the energy you need to manifest your plans. Your aura and chakras bring this energy to you so you have something to work with. To learn more about the aura and chakras we recommend www.spiritualarts.org, and www.gaia.com. There are lots of books on the subject and our favorites are, Change your Aura, Change your Life and Healing Power of your Aura by Barbara Y. Martin and Dimitri Moraitis. Activities that will open and clear chakras are Yoga and meditation. Products to use are Coventry Creations Chakra Magic candles and sprays, incense and music.
We hope you take advantage of the Leo New Moon this month. We can't wait to see the new you.
Dazzle your friends by being a Coventry Creations magic maker!
Follow our blogs on coventrycreations.com. Find us on Facebook @coventrycreationscandles. Join our Witch's Union Facebook Group https://www.facebook.com/groups/WitchesUnionSCC and be a part of something special, our witchy community, because you are special. You can do magic! Follow us on Instagram @coventrycandles and Pinterest, Coventry Creations.
Don't forget to sign up for our newsletter here for more Coventry magic delivered right to your inbox.