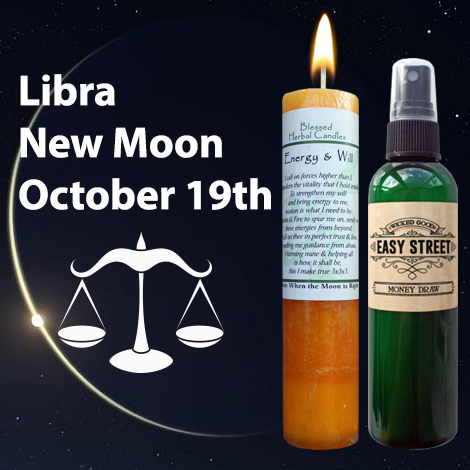 Yay, the new moon is upon us and in the sign of Libra. Balance is the secret of a successful life, for it's when we live life in balance we are able to endure the journey. It's a long and hard road at times and if we burn out, game over before we've accomplished something.
We started a very cool candle ritual two weeks ago that will help you empower your magical style. Before you do this second part of the ritual, please look up the Moon Magic article for Full Moon in Aries on October 5, 2107. Do the ritual and then return here.
Part two of October's, "What's your magical style?" candle ritual. Tools:Energy and Will Blessed Herbal Candle, Easy Street Wicked Good Spray, the second copy of the picture of you.
Create your sacred space to work in. Bless it and invite your guardian angel or spirit guide in. Place the picture of you face down and write out all your positive attributes in a list. Next, list out all of the attributes you are developing. Then define your magical style. Are you a muse (master of one of the arts), organizer, worker, manifestor via your imagination, are you a leader? Think about all the things that you have done. How did you do it? Did you attract people to help you? The answers to these questions will help you define your magical style. Give your MS a name and write it down. For example, my magical style is an, inspired worker. Inspiration flows through me and I can work really hard to see the project through. I also inspire people to join me to help me complete the project, so I also have leadership magic up my sleeve.
Now it's time to set your MS free. Turn your picture over and put the Energy Blessed Herbal candle in a candle holder and on your face. Light it with the intention that you will embody and embrace all the amazing qualities you wrote out on the back. Promise to believe in yourself, even when you are faced with disappointment and temporary setbacks. Promise to forgive yourself and others when times are hard and you lose your way for a minute. Promise to keep this picture in a safe place so you can look at it for inspiration when you need it. Most of all, Promise to love yourself every minute of every day, and laugh at life's ups and downs instead of putting yourself down. Time for Easy Street Wicked Good Spray. Use this spray to pave the way. Spay your aura to keep you uplifted, spray your space or office to make your work easy, spray your contracts too (but don't get them wet.) You can spray the air and wave the paper or object around. Have fun with it and we all look forward to the way you use your magical style to make your life and the world a better place.
Drop us a note on our Facebook page here with your success stories!
Visit our website to browse the Coventry products and make sure to check out our new Witches Union swag. This line of fun products celebrates the powerful witch in you and your part in our community.

Don't forget to sign up for our newsletter, for more Coventry magic delivered right to your inbox here.