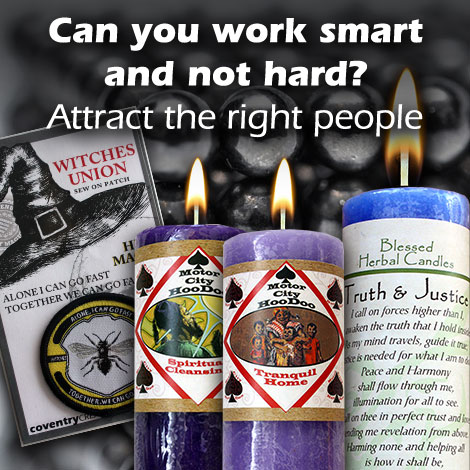 Ever feel like you are all alone with nobody to talk to about what is important to you? It's hard to be alone in your passions and desires.
We all need a community of like minded people to keep us inspired and moving forward. We also need to share the work. Most projects are too large for just one person's efforts. Plus it's more fun to work together. We inspire each other, share the load and celebrate together. I asked the question, What do I need to do to attract a like minded community to help me with my project? This is what the Coventry Magic Oracle placed before me.
Card one, Personal Evolution - use this candle to create the personal evolution you desire - HDC Spiritual Cleansing - For clearing; Bad-mouth, curses, evil intent, jealousy and envy from others can create a darkness around your spirit. Clear out the darkness that hides your light and get back to the business of minding your own. Have you been spending too much time with people who are not from your hive? That can create a lot of hardship and chaos in your life because too much energy is expended in trying to change others or being changed by others. Time to cut out and clear out.
Card two, Alignment - use this candle to align your spirit with the change you are making -
HDC Tranquil Home. For Healing; Your home is the place where you rest, rejuvenate and heal. Keep the peace here and you can recover from anything. Phase two of this personal spell is to rest and restore your spirit. Once you have done that you can look for your people.
Card three, Divine assistance - use this candle to awaken your belief and attract divine assistance - BHC Truth and Justice. For Love; Uncover what is hidden by their fears and your expectations. Take the time needed to create trust among the people that have come together for a like minded project. Everyone has baggage and history. Be a leader and help everyone connect on the common good and let the rest fall away.
Use these three candles to prepare yourself for attracting the right people into your life so you can move forward with your project with joy and enthusiasm. Work can be hard but it doesn't have to be miserable. Find those who love your ideas because they align with theirs. That is what hive magic is all about. Put a pause on your strong desire to be an individual and allow the collective consciousness to create your tribe, hive, team, support and friends. Reward everyone with a Witches Union Hive Magic Patch and watch as the comradery build.
Want to do your own personal Coventry Magic Oracle Reading? Visit your favorite purveyor of Coventry Products or visit our online oracle, cmo.coventrycreation.com
Keep the magic coming to your inbox by signing up for our Coventry newsletter here – We promise to keep it magic and keep it relevant!