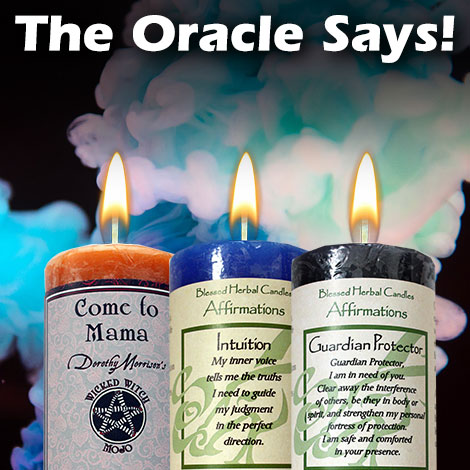 We talk about money a lot. We wonder where it's coming from, if it's enough, how do we help it grow and how do we hang on to it?
Money itself is not the problem – we are. All of our issues with money stem from us, our family culture, and the larger culture of our race, nationality and religions. It can also stem from our geography too. Mostly though, it's all about the people and their relationship with energy. Money is, after all, energy. To build a lovely, calm and balanced relationship with money, we have to look to ourselves and ask some very important questions. Who am I? What am I worth? Am I willing to do the work? The answer to these question changes as we grow and mature, and if we shake off the reasons for being poor, we will find our future quite abundant.
Below the Coventry Magic Oracle provided three helpful perspectives to help me understand, what blocks my prosperity? Even though I asked for myself, I'm willing to gamble that a lot of you can relate to the answers.
Card 1, Overcome your challenge - Come to Mama Wicked Witch Mojo candle – Whatever Mama needs, Mama Gets – tell that money to "Come to Mama". This card talks about having confidence and taking risks with high expectations of high returns. There is nothing wrong with expecting to be paid a fair wage and being rewarded for good deeds. Mama says, stand up, be proud and know that you are worth it. Mama loves you so don't let anyone bring you down. Start this abundance healing journey with getting in line with deservedness. Light the Come to Mama candle and feel your confidence with managing money begin to build.
Card 2, Transform fears into strength - Intuition Affirmation candle – Be intuitive about your prosperity. What is your gut telling you about your money? It's time to face your fear of failure, your fear of success, and let me add another; fear of responsibility. If you find yourself making bad choices or taking the wrong risks, it's time to get out of your head and into your spirit. You can't rely on emotion or intellect. They are the tools of your spirit and not the source of your inspiration. It's true, the more you are in tune with your intuition and inspiration, you will have the answers you need on time and sometimes beforehand. You can also clean up your money karma with a good attitude about money and generosity. Bless the money coming in and bless the money going out. Meditate with this Intuition Affirmation candle and get things back in balance so you can be calm, stop over intellectualizing and let your intuition come forward loud and clear.
Card 3, Create what you desire - Guardian Protector Affirmation candle – Watch for "money leaks", for they can show up in the most unexpected places. Money leaks can represent energy leaks. Have you checked your chakra's lately? Money challenges generally haunt the three lower chakras, but if you are lacking creativity, the issue may be all in your head, meaning the third eye could be blocked. Are you able to pay attention to the details, or even care? The decisions or lack of decisions you make today will show up tomorrow. Protection of your wealth is part in part connected to your personal power. If you are not loving yourself enough, you are not very careful with your energy. You may find you give too much away or cut yourself off from others. Reading between the lines here tells you that you cause a lot of your own money problems. I know, right. At some point we all have to stop blaming our circumstances and fix the problem our self. As you prepare to create what you desire, burn this candle and intend to do a better job of taking care of yourself. Pay attention to your attitudes around your own worth. If you are not willing to be a divine child who inherits the earth, you will not be able to do as much in the creativity department as you desire. ASK FOR HELP!
Want to do your own personal Coventry Magic Oracle Reading? Visit your favorite purveyor of Coventry Products or visit our online oracle.

Keep the magic coming to your inbox by signing up for our Coventry newsletter – We promise to keep it magic and keep it relevant!