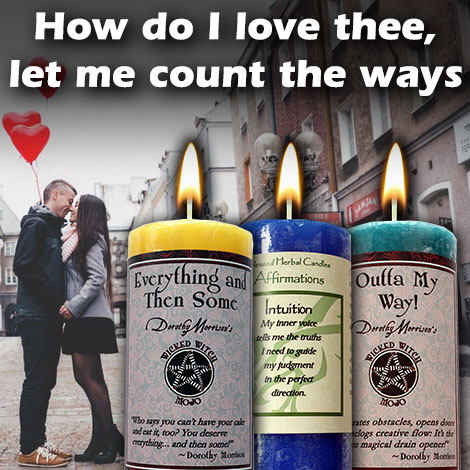 Love! It's what we all desire on so many levels. We are inundated with ideals of love through movies, television,
music, social media, and from each other, but how do we draw the love that we desire into our lives? The Coventry Magic Oracle has some ideas for you to try on.
Card 1. Awaken your hidden goal and deepest desire--Outta My Way Wicked Witch Mojo Candle--sometimes what we want or need the most is buried deep down inside of us. Perhaps we are afraid that someone will think our need is crazy or too much. Outta My Way blows off the doors we created that block the love we seek. If you find expressing need or desire is challenging, by all mean seek professional help. Therapy is a huge part of self-care.
Card 2. Heal the issue that blocks your goal--Affirmations Intuition candle-- Now that you've awakened your right to be loved and love. It's time to heal the reason you blocked it in the first place. Allow your inner voice to guide you when you first get that tingly feeling when you meet and connect with someone special connection. This is a great opportunity to follow your gut 100%. Test yourself by throwing caution to the wind and going for it. Affirm that no matter what happens, the love you have for yourself will not change. IT is rock solid. You are loveable and love will find you.
Card 3. Clear the external obstacle that blocks your goal--Everything and Then Some Wicked Witch Mojo candle--You deserve to have your cake and eat it too! But you can't get your cake if you're not willing to get in the kitchen and do some baking! If you have a partner, go out on a special date and laugh it up! If you are looking to meet your life partner, take yourself out on a date that gets you in front of like-minded people. Don't allow routine to dictate how you live your life, even the hamster gets off his wheel from time to time.
This reading was about recognizing your blocks to love, following your intuition and taking a chance. Love is an amazing experience that makes the sun shine a little brighter and the trees appear a little greener. Take a chance on love! You are worth it.
Want to do your own personal Coventry Magic Oracle Reading? Visit your favorite purveyor of Coventry Products or visit our online Oracle.
Keep the magic coming to your inbox by signing up for our Coventry newsletter here – We promise to keep it magic and keep it relevant!