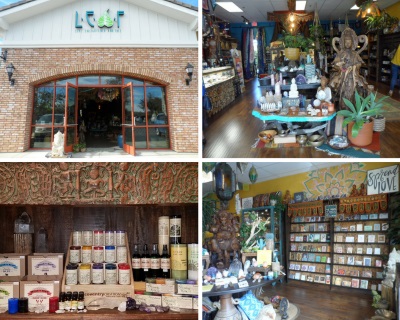 L.E.A.F - Live Enlightened And Free
2623 Gateway Rd #104
Carlsbad, CA 92009
760-804-3712
This email address is being protected from spambots. You need JavaScript enabled to view it.
Visit Us Onhttp://liveenlightenedandfree.com/
Facebookhttps://www.facebook.com/LiveEnlightenedAndFree/
Instagramhttps://www.instagram.com/liveleafsd/
Bio
Conceived by an artist with a desire to inspire others to create, L.E.A.F.
is a mindful living gift store that supports local artisans, handmade items, and fair trade companies.
LEAF is the result of a child's fascination with crystals and art. For as long as I can remember I've been fascinated by stones and creating my own interpretation of what I see in the world. Eventually I began working in metaphysical gift stores, and that was when I knew I wanted someday to create a space of my own where creativity can flourish and people can come have a unique experience. People don't come to LEAF just to shop; they come to ground themselves, re-center, and just be. We live in a world of constant rush and pressure to do, it's good to have a place you can go to decompress and reconnect with your inner self.
One of the most important things about LEAF is supporting people. Most items here are handmade, either locally or by fair trade companies around the world. You can find products from Africa, Nepal, India, Peru, and many more places including right here in Carlsbad. Most everything you see is the result of hours of trial and error, some person's own creation. When you shop with us, you help these people continue their livelihood.
When you need a gift for someone or just want to treat yourself, we've got you covered! Our gifts are meant to delight and inspire. Carefully chosen with intent, we have items to indulge all of your senses.
I chose Coventry for my store because the quality of the candles are great and they have intent and meaning poured onto them. My customers love them and I can't keep them in stock! Not only is the product top quality but the customer service is wonderful and helpful too! I am a proud retailer of these candles.