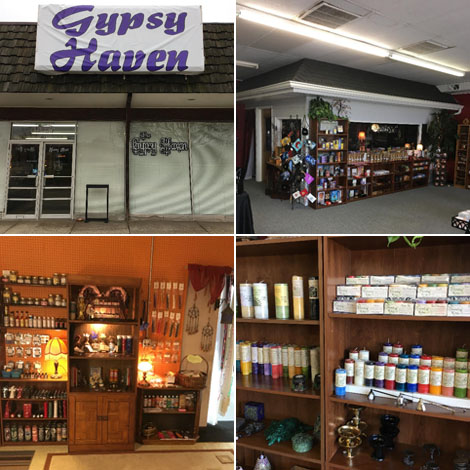 The Gypsy Haven
143 W River Rd
Elgin, IL 60123
815-566-6007
Visit Us On www.thegypsyhaven.com
Follow Us At Facebook - www.facebook.com/thegypsyhaven
About Us
The Gypsy Haven is owned and operated by two Eclectic Witches - Raven and Shay.
We have been practicing since our teens, delving into various styles including, Voodoo, Hoodoo, Santeria, Christianity and Witchcraft. In 2010 we started out Raven-Wolf Enterprises as an online store called "Online Wiccan Supplies". After seeing how many of our customers were local, seeking advice as well as their supplies we decided to open our brick and mortar location, The Gypsy Haven - Elgin, IL's ONLY Witch Shop! We now have customers that drive in from all over IL, IN, WI, IA, MI and some that make our store a destination stop when they fly into the states from Australia and England.
We sell predominantly Witchcraft, Wicca, Santeria, Voodoo, Hoodoo supplies and curios! We also offer classes, trunk shows with local artists, hand-crafted supplies from all over as well as our own line of oils, incense and ritually charged candles.
We first heard about Coventry Creation from a customer and how well the candles they used worked for them. So we decided to learn a little more about Coventry and give their Wicked Witch Mojo line a try. We would ask our customer what their experience was when using the candles and received nothing but positive feedback. After trying the candles ourselves and reviewing the results...we expanded into carrying ALL of the Coventry candle and oil lines. After three plus years and counting, we have yet to be let down by Coventry Creations and the positive feedback still keeps coming in!