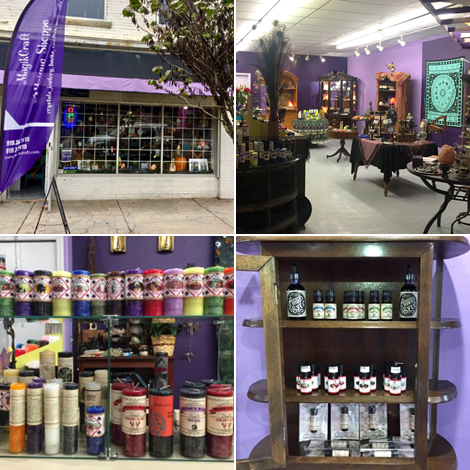 MagikCraft - A Unique Shoppe
1916 Perry Street (right next to Ninth Street and Wholefoods)
Durham, NC 27705
919-717-9115
919-302-1919
Visit Us On www.MagikCraft.com
About Us
After dreaming of opening a brick and mortar store for many years Lynn and Tom opened MagikCraft in August 2016.
She is a seventh generation International Intuitive Psychic Medium, Energy reader, Shaman, Profit, Mystic, Spiritual Mentor, Healer, Animal communicator. I use Extrasensory Perception (ESP) to identify information hidden from the normal senses along with Psychometric, metaphysics, Para psychology, using integrity and confidentiality.
The store is stocked with all the supplies and tools that she likes to use for her personal Magick. There is a vast assortment of Candles, essential oils, therapeutic oils, crystals and gemstones, , Spell Kits, local handmade soaps, bath bombs, and lotions, peruse bookshelves full of alternative healing and magical reading material, raw local honey, local beeswax, local jellies and jams along with ritual candles, jewelry, incense, dream catchers, wind chimes and a variety of bits and bobs.
After thirty-five years Lynn continues to have teaching workshops and individual training. She believes that positive energy is contagious. There is a Full Moon Gathering every month. All are welcome. Sign up for their newsletter at www.magikCraft.com to be notified about all the upcoming happenings. By signing up your name is submitted for raffles and promos and free gifts.
The following is what Lynn tells us about the Coventry candles.
When we opened our Brick and Mortar in August 2016 we had no idea what the community would love to purchase as such I ordered items I love and used in my personal Magik. Coventry was our first vendor selected for the Candles, Oils and Sprays. I was like a Witch on a broom stick flying high when the customers walked into MagikCraft so I would welcome them with a magical dose of the many sprays from the Coventry such as Dragons Blood, Rosemary and Sage, Karma Cleaner, Stay Calm and so many more. The clients truly get the MagikCraft and Coventry experience as soon as they enter our Unique Shoppe. The number one selling product in our Shoppe are the Candles that Coventry has created through their own Magick. I must say THEY WORK. We have customers that come in every week for a candle and this is a testament to the amazing smells, Magick and handily spells on each candle if a person needs that extra help. Every day before we open the door we light a Coventry candle to invoke the desire of the day on a personal level, we have actually had customers come in based on the "smell floating out the door of our Shoppe " of the candle to our delight. Coventry Candles, Spray & Oils will always be MagikCraft preferred vendor due to the proof in the pudding. They are AMAZING.